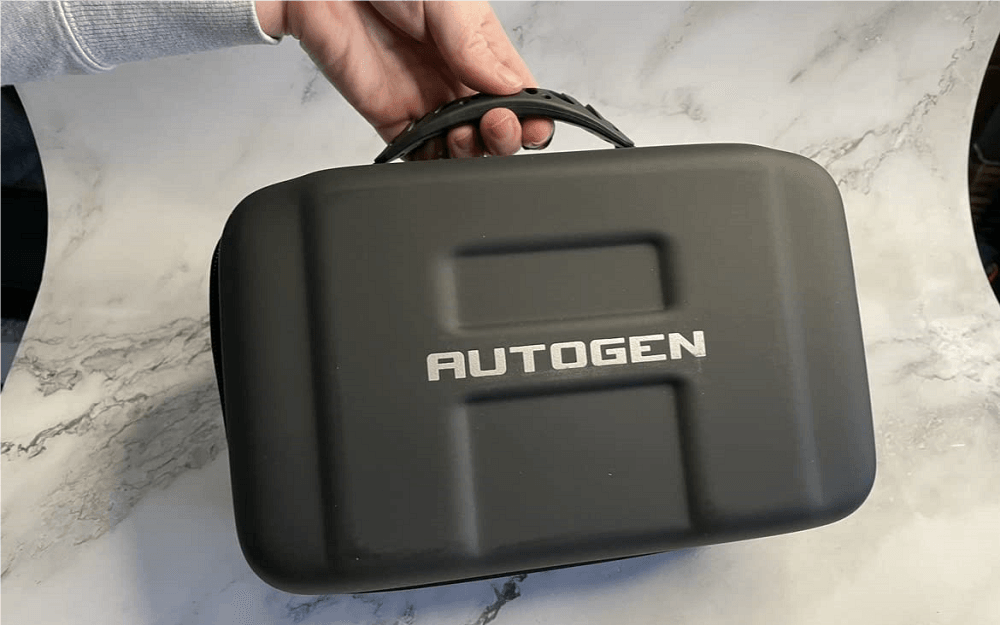 How to Choose the Most Suitable Jump Starter?
by: Autogen Tech -
A portable jump starter is like a power bank in your backpack. When you leave home, of course, you want your phone to always be fully charged. But when emergencies arise, you will never regret carrying a power bank that can resurrect your phone at any time.
But how do you choose a jump starter that suits you or your car? You need to pay attention to the following points.
Is It a Portable One?
I don't think you want to carry a huge, heavy traditional heavy-duty jump starter. Bro, phones have become smaller and smaller. Are you still carrying a big head next to your head? Portable emergency starters powered by lithium-ion batteries have replaced traditional jump starters. We cannot deny that they still exist, but who would refuse a smaller and more portable jump starter? Autogen's jump starter is only 9.33x3.74x1.69 inches in size and comes with an Eva box. Trust me, it won't be bigger than your daughter's backpack. And it weighs only 4.07 pounds. Even a ten-year-old child may find it a bit light as a dumbbell, but remind them not to lift it too many times if they don't want to lift their arms the next day. Portability, as it says, you can put it anywhere you want, just need to find it when you need it.
Differentiating Your Engine Type
Winter is the season when vehicles tend to stall the most frequently. The cold weather requires your battery to consume more power to maintain the minimum temperature necessary for it to operate. So, it's common to see many cars parked on the side of the road during winter, with their hoods raised and their owners standing on the roadside or sitting in their cars making phone calls for help. However, what you should know is that the power of a jump starter is measured in terms of cold cranking amps (CCA) or peak amps (PA). CCA is determined by placing a new fully charged battery in a cold environment (-18°C) and measuring the amperage it continuously discharges for 30 seconds. The higher the number, the more powerful the jump starter is. But don't worry, every Autogen jump starter has been tested to operate at -40°C and can consistently deliver currents above the standard. Of course, when making the final choice, you still need to consider the following two factors.
How Do I Find Out My Engine Model?
Not everyone is familiar with their engine type. It can be difficult and tedious for them to look up their vehicle's engine type and then choose the appropriate jump starter for themselves. Here's a simple solution: classify according to gasoline and diesel cars. Determine what type of jump starter is suitable based on the capacity of the fuel tank (in liters). It's not a smart approach, but Autogen did it.
How Old Is Your Car?
Assuming that two vehicles have the same volume, the older one will require a higher current to start with a jump starter. For example, a pickup truck that has been used for 15 years requires more power than a brand new one. This is because newer engines have higher utilization efficiency of electricity due to their structure and design. But please remember, if you come across a stalled vehicle on the roadside, grab your Autogen Jump Starter and help them out. Just like someone once helped you as a fellow driver, even if they didn't.
The above are the important considerations you need to keep in mind when choosing a jump starter that suits your vehicle. Now, let's talk about the features that are equally important for you to know when making your selection.
The Larger The Battery Capacity, The Better
As the name suggests, a larger capacity represents more usage times and fewer charging cycles. If you don't want to charge your jump starter every few months or even half a year, a larger capacity jump starter is essential. Take the Autogen MJS111B, for example, with a battery capacity of 32000mAh, it allows you to charge once a year at least. Additionally, it comes with a QC3.0 USB port, which enables you to quickly charge your Bluetooth earphones, mobile phones, tablets, and other electronic devices. I don't think anyone would expect the charging speed from the car's port, which is even slower!
Additional Features Of The Autogen Jump Starter
If you've ever experienced a stalled engine due to a dead battery at night, trust me, you don't want to go through it again. That's why I believe the invention of the flashlight is so essential. An ultra-bright LED flashlight is almost a standard feature for all jump starters, and its purpose is to prevent car owners from stalling at night. The ultra-bright LED light will undoubtedly provide you with an unparalleled sense of safety at night, but I hope you never have to experience it.
Built-In Cigarette Charger is a compact and portable 12V DC mobile power source that is suitable for all of your car products. For example, if your car tire is flat and you happen to have a portable air pump in your trunk, and your car happens to have no power, believe me, you will come back to give us a huge thumbs up after that day (in advance, thank you for your review). This port supports almost all portable car products that use a cigarette charging interface, and creating a versatile product that allows car owners to feel at ease has always been our goal. Therefore, all you need is Autogen XD.
Safety First
Electricity is a dangerous form of energy, especially when you need to interact with it. We don't want any accidents happening to our users, so ensuring the safety of every user is the top priority for all manufacturers of jump starters (not just Autogen). But perhaps Autogen does a better job in this area. One-key startup operation. Autogen has a simpler and safer startup method than other jump starters. And over the past 13 years, Autogen has had a 0% accident rate. Why 13 years? Because Autogen was founded in 2010, and this year is our 14th year.
Warranty Card
Each product purchased from Autogen comes with a warranty card inside the packaging. From the moment you receive the goods, we provide warranty service for any product-related faults for one year. It's worth mentioning that if you can log in to our official website and fill out the relevant Product Warranty Registration. You can receive an additional 6 months of warranty service. With a total of 18 months of extended service time, this far exceeds almost all brands on the market. We have a 13-year reputation guarantee. And rest assured, the content of the Product Warranty Registration is only used to enter information about your purchase of Autogen products, as the system typically only retains customer information for one year. The content does not involve any privacy-related issues. You can fill it out with confidence.